Three Tanz scientists receive awards for neurodegenerative disease research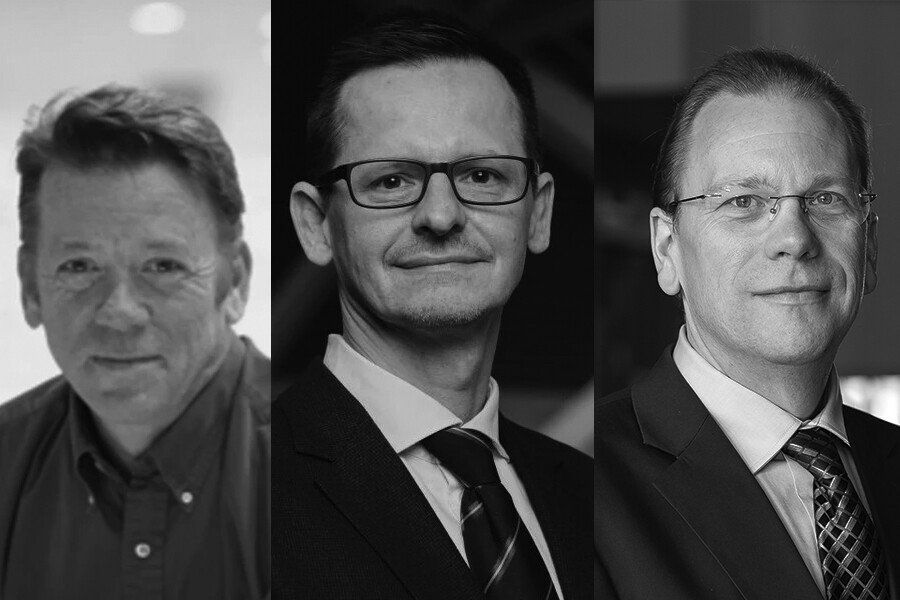 Three scientists at the Tanz Centre for Research in Neurodegenerative Diseases have received donor-supported research awards to pursue projects that will advance understanding of neurodegenerative diseases.
The awards, valued at $40,000 each, provide critical funding to examine new areas of science.
"Awards such as these allow researchers to explore new questions and advance our understanding of neurodegenerative diseases," says Graham Collingridge, Krembil Family Chair in Alzheimer's Research and director of the Tanz Centre. "Donors who support this work are essential to the research process, and we are grateful for their generous contributions."
Robert L. Cunningham Parkinson's Research Award
Paul Fraser, professor in U of T's department of medical biophysics and investigator at the Tanz Centre, received the Robert L. Cunningham Parkinson's Research Award to examine a new drug candidate for Parkinson's disease.
The award, made possible through a generous bequest from the estate of Robert Cunningham, supports research into Parkinson's disease.
Fraser's research program focuses on the misfolded proteins that accumulate and cause damage in the brains of people with neurodegenerative conditions such as Alzheimer's disease and Parkinson's disease. With the new award, Fraser's team is examining whether a small protein that is effective in treating Alzheimer's disease has potential as a new biologic treatment for Parkinson's disease.
The brains of many people with Parkinson's disease contain aggregations of a misfolded protein called alpha synuclein. Preliminary data from Fraser's lab suggests that the potential therapeutic protects the brain from the effects of alpha synuclein aggregation and spread in Alzheimer's disease.
Fraser's team will now examine whether the new therapeutic candidate can prevent and even reverse the nerve damage caused by alpha synuclein aggregation associated with Parkinson's disease. If successful, the research would provide the evidence to broaden the research program to evaluate the efficacy and mechanism of the compound.
"The primary goal of the research supported by the Robert L. Cunningham Parkinson's Research Award is to determine if the therapy we have developed and proven effective for Alzheimer's disease pathology is equally capable of rescuing the nerve cell damage that causes the clinical outcomes in Parkinson's disease," says Fraser. "The greatest aspect of this award is that it will allow us to develop a unique approach to the treatment of Parkinson's disease that we could not have otherwise been able to pursue."
Laura Sabia Parkinson Research Award
Gabor Kovacs and Satoshi Tanikawa received the Laura Sabia Parkinson Research Award to examine proteins that may be involved in inflammation of neurons in progressive supranuclear palsy (PSP), a neurodegenerative disease similar to Parkinson's disease.
The award is funded by the Laura Sabia Fund at Parkinson Canada.
The brains of people with Alzheimer's disease often include deposits of a protein called tau that is misfolded and clumped together. Researchers have previously found that proteins called inflammasomes, which are large proteins involved in inflammation, promote accumulation of the abnormal tau protein in Alzheimer's disease and lead to neurodegeneration.
Kovacs, professor in U of T's department of laboratory medicine and pathobiology, and Tanikawa, a neuropathology research fellow at the Tanz Centre, are now examining the role of inflammasomes in PSP. The research team will examine inflammasomes in samples from patients with PSP and compare them to patients with Alzheimer's disease and no disease. They will also analyze inflammasome-related genes that are induced by tau protein in PSP.
"Currently, there is no therapy for PSP, but this inflammasome pathway that we are trying to evaluate has therapy targets. Therefore, it is very important to crystallize which aspects of this pathway are involved in progressive supranuclear palsy," says Kovacs. "We have promising preliminary results using single nuclear RNA sequencing, and this award allows us to complete our studies for the full understanding of the role of the pathway."
By investigating the role of inflammasomes in PSP, Kovacs and Tanikawa hope to identify whether inflammasomes may be an early signal of PSP and whether they could be targeted by therapies to treat PSP.
"Since there are therapy developments that target this inflammasome complex, our research will pave the way for the best application of novel therapies targeting this pathway," says Tanikawa. "I am very honoured to receive this award. I feel a sense of responsibility and a desire to achieve results in this research."
"In this competitive field, receiving an award is always an honour and appreciation of our ongoing efforts," adds Kovacs. "It multiplies our motivation and high respect towards those who provide the funding."
Kofman Family Memorial Research
Michael Pollanen, professor in U of T's department of laboratory medicine and pathobiology, received the Kofman Family Memorial Research to examine nodding syndrome and whether it is related to tau protein misfolding similar to Alzheimer's disease and other neurodegenerative conditions.
Nodding syndrome is a neurologic illness that was discovered in a population of child refugees from Uganda in the early 2000s. A few years ago, Pollanen's research group discovered that nodding syndrome is associated with abnormal tau protein and has similarities to Parkinson's disease and other tau-related neurodegenerative conditions.
The Kofman Family Memorial Research Award, which is supported by a generous gift from Tom and Karen Kofman, will allow Pollanen's research team to investigate whether misfolded tau causes nodding syndrome and whether a virus causes the changes to tau protein. They will compare brain samples from patients with nodding syndrome to samples from patients with other tau-related diseases, as well as look for viral proteins in the samples.
A better understanding of nodding syndrome, and tau protein's role in the disease, could help improve understanding of tau misfolding in other neurodegenerative conditions, including Alzheimer's disease. But, if nodding syndrome is a tau-related disease caused by a virus, it would represent the intersection of global health and neurodegenerative disease research. It would also be a small step in helping close the gap in understanding these conditions in underrepresented groups.
"We know that brain diseases occur around the world, but they have been mostly studied in populations of European descent. Many of the brain diseases in Africa have not been studied to the same extent as in other global regions. Furthermore, brain diseases associated with tau pathology are even less studied," says Pollanen. "We will try to help close this gap by studying a tau-associated brain disease that occurs with high prevalence in Uganda, in a post-conflict region. This may provide translatable knowledge to sporadic neurodegenerative diseases. This seed funding will catalyze our efforts to allow us to obtain important preliminary data for further research."