Tanz Centre Findings May Help Detect Young-Onset Alzheimer's
About the Centre, Research, Resources for Patients, With Your Support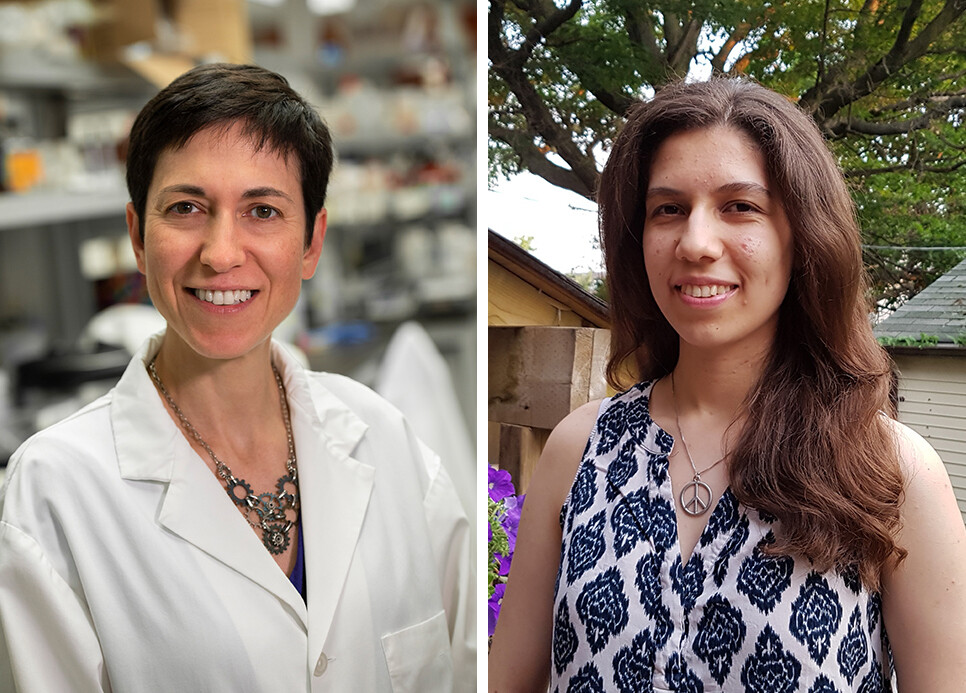 While Alzheimer's disease most often appears in late life, as many as one in 10 people who develop it begin to experience the disease before age 65. This young-onset version is often undetected and misdiagnosed, with debilitating results.
In a recent study, University of Toronto researchers have found key differences in symptoms between people who develop Alzheimer's earlier versus later. The researchers showed that two mental illness symptoms — depression and anxiety — are much more common in people with young-onset Alzheimer's than in those with late-onset Alzheimer's.
The findings underscore the need to consider Alzheimer's in midlife when these symptoms occur with cognitive or thinking problems, and may improve diagnosis and the quality of life for affected individuals.
"If you get cognitive impairment at age 55, people are not thinking about Alzheimer's disease," says Carmela Tartaglia, an associate professor in the Tanz Centre for Research in Neurodegenerative Diseases and the senior author of the study published in January in the journal GeroScience. "The fact that people get Alzheimer's disease before age 65 is less well known, so many people have considerable delay in diagnosis, often up to five years."
This delay can have dire consequences. "Many patients have gone through several doctors, psychiatrists or other specialists, and medications," says Tartaglia, who also cares for patients in the Memory Clinic at University Health Network. "They've been told that they're having a midlife crisis, are depressed or anxious, or are going through menopause. They may experience significant anxiety about losing their memory. Some people have even lost their jobs."
The delay in diagnosis is not surprising, given that mental illness symptoms are common in people with Alzheimer's — more than 80 per cent of people develop at least one mental illness symptom, such as depression, anxiety or apathy, as the disease progresses.
In the study, the researchers — including U of T master's student Melisa Gumus, the study's first author — determined the prevalence and severity of mental illness symptoms over a four-year period in 126 people diagnosed with young-onset Alzheimer's and 505 people with late-onset Alzheimer's. When examining questionnaires about mental illness symptoms completed by caregivers, the researchers included people who were taking medications to treat mental illness symptoms as having mental illness symptoms, even if the person no longer exhibited symptoms. This novel approach provides the clearest picture of prevalence.
The study showed that depression and anxiety are much more common in young onset, both at the start of and throughout the four years. For example, at the start of the study, 64 per cent of people with young-onset Alzheimer's had depression and 33 per cent had anxiety, while 41 per cent with late-onset Alzheimer's had depression and 17 per cent had anxiety. There was no significant difference between the two groups in the prevalence of other mental illness symptoms or in the severity of any symptoms.
While the study did not explore why depression and anxiety are more common in young onset, in addition to possible differences in disease processes, there are psychosocial differences such as heavy responsibilities for raising children, earning income or caring for elderly parents that may play a role.
"Our hope is that the findings help patients get diagnosed earlier," says Tartaglia. "If, for example, a patient is 55 years old and has a new onset of depression or anxiety that is not situational, consider this as the beginning of neurodegenerative disease." While there is no cure to stop the progression of Alzheimer's, an accurate diagnosis allows people to take steps early. People at the early stages of the disease may be eligible to participate in clinical trials to slow the progression of Alzheimer's or reduce specific symptoms. As well, people may be able to modify their work, apply for disability benefits or make other changes to improve their quality of life.
In another initiative to understand the links between depression and dementia, the Tanz Centre for Research in Neurodegenerative Diseases, the Temerty Faculty of Medicine and the Toronto Dementia Research Alliance are supporting brain medicine research fellowships. Find out more and apply.