New Tanz Centre Scientist Naomi Visanji Is Creating a Model to Study Progressive Supranuclear Palsy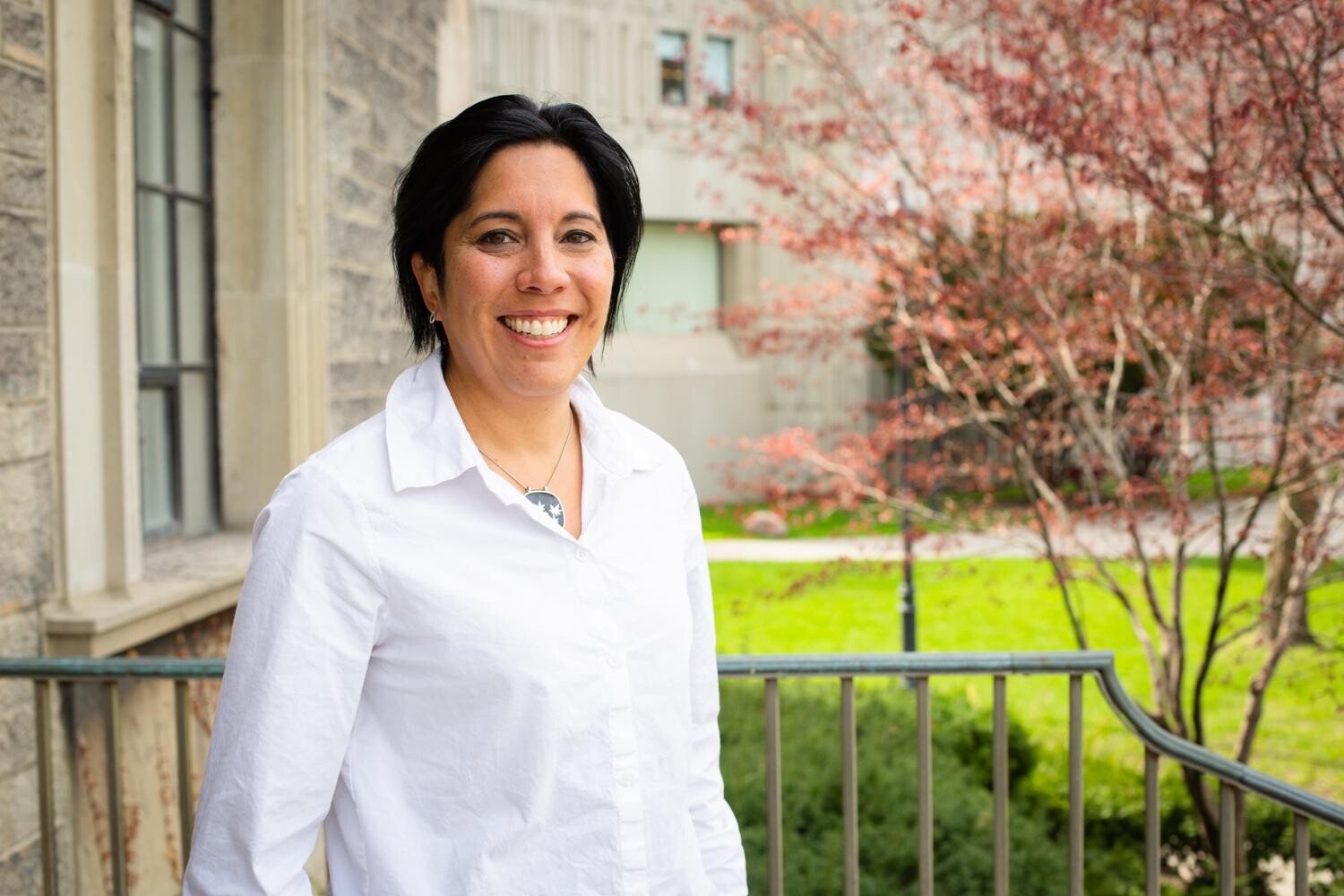 Naomi Visanji has joined the University of Toronto's Tanz Centre for Research in Neurodegenerative Diseases and the Krembil Research Institute at University Health Network (UHN). She was also recently appointed as an assistant professor of laboratory medicine and pathobiology in the Temerty Faculty of Medicine at U of T.
Her new role fulfills a dream she's had for nearly 20 years, enabling her to lead a laboratory creating a sophisticated animal model to study neurodegeneration. She is focusing on progressive supranuclear palsy (PSP), a rare but debilitating neurodegenerative disease.
Visanji spoke about her goals in her new role, what drives her research and her advice for young scientists embarking on their careers.
What is your research area?
I've been recruited as part of the Tanz Centre at U of T and the Rossy Progressive Supranuclear Palsy Centre at UHN, which is the largest centre focusing on this disease in Canada. Our goal is to advance our knowledge of the basic biology of PSP, with a long-term view of aiding the development and testing of novel treatments.
Currently, our ability to study treatment options for PSP is limited because there's no effective animal model of the disease. We just don't have a good enough platform to test drugs preclinically right now. My goal is to fill that void by generating an animal model that captures the biological processes that drive the human disease.
My team and I are addressing this challenge by using human brain tissue from patients with PSP who've generously provided their brain for research through the brain donation program at UHN. As scientists, we are enormously grateful to the patients and their families who choose to participate in brain donation, as our work would simply not be possible with their support.
Are there any treatments for PSP?
Current treatments help alleviate some symptoms for a little while. However, as the name of the disease suggests, patients get progressively worse over time, and there is no treatment yet that can slow down that process or halt it in its tracks. Helping to find that treatment is the end goal of my research.
How do you use human brain tissue in your research?
We carefully extract the proteins associated with PSP from different regions of the human brain that are affected by the disease. We then inject this material into the brains of mice and watch the mice over several months, studying both their symptoms and their brains so that we can learn more about the biological processes occurring in the human brain over the course of PSP.
Animal research is an emotive subject, but we simply can't do this work without research in mice. With PSP, we only get access to the human brain postmortem, so we get a snapshot of what's happening right at the very end of the disease. To prevent the disease, we need to know what's happening earlier on and, for that we need to be able to model those processes in a living system.
It's important to me that my research is as close to the human condition as possible. The mice in our research are very specialized transgenic mice that express human forms of the proteins we're interested in. Combining these "humanized" mice and the donated human brain tissue from patients with PSP brings us as close as we can be to studying the early stages of the disease in a human brain, which makes our observations really relevant and is very exciting.
How much does the research community already know about PSP?
We now understand there are different subtypes of PSP, which can have different clinical symptoms and can involve different brain cells and regions. A key part of my research will be trying to capture these different subtypes of PSP.
This ties into the development of future treatments and personalized medicine. A treatment that works for one patient may not work for another. So we need our models to be nimble and able to adapt as we learn more about the complexities of this disease.
Many people may never have heard of PSP. It has not been as well researched as some more common neurodegenerative diseases. The Rossy Foundation donation has allowed our team to prioritize PSP, to build this specialized centre and bring in world experts, and it has given me the exciting opportunity to focus on creating an animal model of PSP.
Where is your model at?
We're at the very beginning of our journey. I started as a Tanz scientist in December 2021, so we've been working hard to get the lab up and running.
I've been a researcher for 20 years, initially studying Parkinson's disease. We've realized there are many commonalities between the different neurodegenerative diseases, including Parkinson's and PSP, so I'm excited to translate my background with Parkinson's to this new opportunity to study PSP.
Why is this work important to you?
I became a researcher because I have always loved science. More than 20 years later, I still really experience joy and excitement when we make a key discovery.
When it comes to studying neurodegenerative diseases specifically, we're all very aware that the population is aging, these diseases are becoming more prevalent and more people are suffering.
From a personal perspective, my mum was diagnosed with Parkinson's about 10 years ago. So I have seen firsthand how these diseases progressively reduce a person's quality of life. It's awful seeing that happen to somebody you love, so I'm constantly aware of the importance of the research we do and the fact that we desperately need an effective treatment or a cure.
Will your work involve partnerships?
I believe strongly in partnerships and consider myself a highly collaborative person. I've had successful collaborations in my earlier work, for example, on a big artificial intelligence project with IBM Watson.
When my model is up and running, my goal is to team up with people in biotech and drug development who want to test potential therapies in my model. And I'd love the opportunity to incorporate the artificial intelligence aspect to help identify drugs that we can test. That's very much in the long-term plan.
How will your role in the Tanz Centre help achieve your research goals?
I completed a postdoctoral fellowship at the Tanz Centre 10 years ago, so this new role is a little bit like coming home to me. The Tanz Centre was a very formative place for me during my training.
I'm surrounded by fabulous colleagues who are experts in their fields. I've got a lot of support and experience around me that I can draw upon to provide me every chance of success.
Ever since I went into science, I've wanted this opportunity. I feel very fortunate to be where I am.
Do you have advice for scientists who are starting their careers?
Science is very competitive, but I want to encourage young scientists to follow their dreams. We have access to a constantly advancing array of new technologies that can accelerate discovery so, from that perspective, it's a very exciting time to be a young scientist.
I'm grateful I've had so much support in getting this opportunity, and I've pledged to offer that same support to younger scientists. In this new role, I'm particularly looking forward to bringing on graduate students in my team and being able to mentor, encourage and support them in the early stages of their careers. It's very beneficial to me too. Young scientists come with such enthusiasm and some great out-of-the-box ideas. I'm excited to be a part of the growth and the development of students at the Tanz Centre.