Introducing Martin Ingelsson, New Tanz Centre Scientist
About the Centre, Research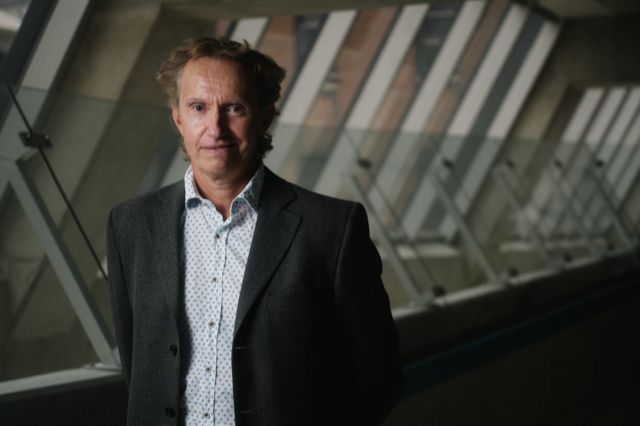 Photo from Krembil Brain Institute/UHN
Martin Ingelsson recently moved to Canada from his native Sweden to join the research team in the Tanz Centre for Research in Neurodegenerative Diseases at the University of Toronto and the Krembil Research Institute at University Health Network (UHN). He is also a U of T professor and cares for patients in the Memory Clinic at UHN. Here, we speak about his important scientific contributions so far and his visions for his new Toronto lab.
What is your research area?
I am interested in Alzheimer's disease and similar disorders, with the main aim of understanding them at a molecular level and using that knowledge to develop novel diagnostic and therapeutic strategies.
Where did you start as a researcher?
In 1993, while studying medicine at the Karolinska Institutet in Sweden, I completed a research elective through the Erasmus exchange student program in Europe. I spent six months in Heidelberg, Germany conducting research into the development of angiotensin receptor blockers. These drugs are widely used now to treat high blood pressure and heart failure, but they were very experimental back then. After that experience, I decided to add a research dimension to my future career as a physician. I later joined Lars Lannfelt's group at the Karolinska Institutet studying Alzheimer's disease, which started my research into neurodegenerative disorders.
What have been significant discoveries throughout your career to date?
During my postdoctoral fellowship, I went to the US to work with Brad Hyman at Harvard Medical School. I characterized protein pathologies and was the first author on a paper showing the relationship between changes in the brain and disease severity in people with Alzheimer's disease. This paper has been cited almost 700 times, which indicates that this research has informed other studies.
Back in Sweden, I started research into the protein alpha-synuclein. In a collaborative effort with the Swedish biotech company BioArctic, my team studied immunotherapy based on antibodies against toxic forms of alpha-synuclein as a treatment strategy for Parkinson's disease and Lewy body dementia. Our research showed that immunotherapy could prevent the development of harmful brain changes in mouse models of these disorders. [The findings were published in a 2013 paper in the Journal of Neurochemistry and a 2014 paper in the journal Neurobiology of Disease.] A version of one of these antibodies for use in humans is now being studied in a clinical trial by the biopharmaceutical company AbbVie. I hope this ongoing work will eventually lead to benefits for patients.
I believe immunotherapy is the most promising avenue to explore for the treatment of neurodegenerative diseases, although it has faced backlashes over the years. We can use two approaches: either trigger the body to generate an immune response (produce antibodies) against the protein that causes the neurodegenerative processes, or bypass that step by directly delivering antibodies that we have generated outside the body to the patient. The latter form of immunotherapy is now more popular, mainly because it leads to less side effects and can be better controlled.
Earlier this year, a new immunotherapy drug for Alzheimer's disease received approval in the US. While this drug has been controversial, its development means that the ball is now rolling for such treatments. There will be much more development in this field, as we will need to develop improved and more personalized forms of immunotherapies. I hope that my team can make contributions towards this end.
More recently, I have been turning my attention also to gene therapy. I am exploring the gene-editing system CRISPR/Cas9, which can cut and destroy disease-causing DNA in cells. So far, we have tested this strategy on cell and mouse models of Alzheimer's disease, and the results look promising.
Why did you choose to come to Canada to join the Tanz Centre and the Krembil Research Institute?
I believe this is an excellent place to do the type of research I am interested in. I have had collaborations with researchers here, so I know that my colleagues are outstanding. I also spent six months here on a sabbatical at the start of last year. After I returned to Sweden, I was fortunate that an opportunity to join these teams came up. Overall, I am thrilled to be a part of these centres where there are so many opportunities.
I was also ready for a new challenge. I have always been very eager to get out of my comfort zone and test myself in new settings. Exploring different environments can expose you to new ideas, which can be very valuable for the advancement of science.
I believe I can maintain a good relationship with my colleagues in Sweden and provide opportunities to collaborate between Canada and Sweden. I am confident that this will lead to a win-win situation.
What are the goals for your research here?
To do my very best in both the laboratory and the clinic. As a scientist, my goal is to dig deeper into the molecular mechanisms of neurodegenerative diseases and come up with novel ideas to diagnose and treat these disorders.
Research is teamwork, and if I can add one or two pieces to the puzzle, I will be happy about that.
How are you finding living in Canada?
I like the North American enthusiasm. People here think that anything is possible.
All the people I have met have been amazingly nice and willing to do their very best for me. The person who printed my work permit at the airport when I arrived in Canada actually said, "Welcome to Canada." So I feel welcome on all levels.