Arnold Irwin: 1926-2021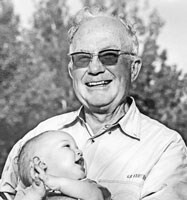 Members of the Tanz Centre for Research in Neurodegenerative Diseases community are mourning the loss of supporter Arnold Irwin, who passed away on August 12 at the age of 96.
Irwin's involvement with U of T's Tanz Centre began in 2011, when he funded the purchase of an Orbitrap mass spectrometer. This sophisticated piece of equipment was the first of its kind in Canada and continues to be used by researchers to quickly identify thousands of proteins and reveal the connections between them. Recognizing that a dedicated operator is key to harnessing the Orbitrap mass spectrometer potential, Irwin then continued to support the salary of an expert to operate and maintain the equipment.
"The Orbitrap mass spectrometer has become our main discovery tool, with more than 50 published manuscripts having relied on this machine for their central findings" says Dr. Gerold Schmitt-Ulms, scientist at the Tanz Centre and professor in the Department of Laboratory Medicine and Pathobiology. "Arnold Irwin's generous support has led us to understand the molecular interactions of more than two dozen key proteins in Alzheimer's diseases, Parkinson's disease, Amyotrophic Lateral Sclerosis, and Prion diseases — a remarkable legacy."