After Challenging Pandemic Times, Looking Ahead with Optimism: Q&A with Tanz Centre Director Graham Collingridge
About the Centre, Research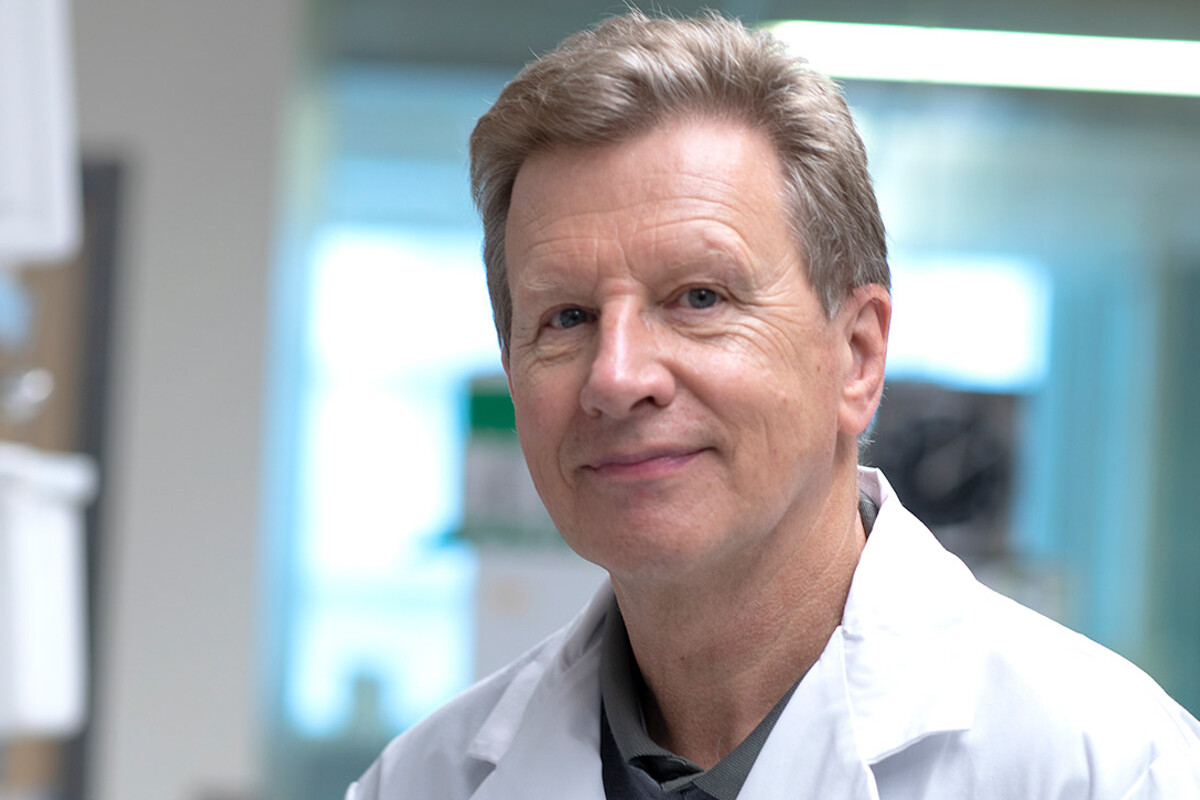 In September 2019, just a few months before the global COVID-19 pandemic erupted, professor Graham Collingridge began as the Krembil Family Chair in Alzheimer's Research and the director of the Tanz Centre for Research in Neurodegenerative Diseases in the University of Toronto's Temerty Faculty of Medicine. He speaks about his eventful first two years leading the Tanz Centre and his bright outlook for the future.
What were your priorities for the role at the start, and how — if at all — did they change with the pandemic?
My initial goals were to take stock, get to know the principal investigators (PIs), and get a better feel for where the Tanz Centre is positioned within the international research effort to prevent and treat neurodegenerative diseases. I am extremely impressed by the quality of the PIs, who are brilliant scientists, and the research space, which is the best I've ever encountered in my career.
The pandemic has been very difficult for day-to-day operations, as well as disruptive to carrying out our strategic plans. Our labs were closed for several weeks. They're now operating full time, but with restrictions on the number of people on site.
During these challenging times, I'm pleased that we've been able to move forward on our goals to recruit new researchers, attract bright and talented students and postdoctoral fellows, and increase collaborations within the Tanz Centre and across Toronto, nationally and globally. Two scientists will be joining our team this fall.
Another exciting initiative is our recently launched partnership with the Toronto Dementia Research Alliance (TDRA), enabled by funding from the Temerty Foundation gift. This partnership will support new research into the links between depression and dementia. Depression in people aged 65 and older is an important risk factor for developing dementia, and this research will explore if treating depression can prevent dementia.
What is already happening in this partnership?
Together with Tarek Rajji, executive director of the TDRA, we are recruiting Brain Medicine Research Fellows. The fellowship program is run by Dr. Sara Mitchell, staff neurologist at Sunnybrook Health Sciences Centre and assistant professor at the University of Toronto. The purpose is to enable fellows to combine advanced medical training with research. We also are funding pilot collaborative grants and plan to host an annual workshop for researchers and clinicians.
As a new academic year begins, what are your goals for the year ahead?
The academic year is relevant because we see an influx of new students in our labs. Our goal is to encourage students to get settled into their new environment and get started on a good footing in their new projects. Many of our scientists also teach. It's important to be mentoring the next generation of researchers in this field.
I want to ensure that we disseminate our research as widely as possible within the global research community. To support this, we are aiming to increase our social media presence. We will be launching our Twitter account shortly.
I also hope to revive an earlier goal related to raising our profile: to have an annual, in-person public lecture at the Tanz Centre. The event would highlight progress in important research that is highly relevant to society, in Alzheimer's disease and other forms of dementia, Parkinson's disease, ALS and prion diseases. When this starts will, of course, depend on the pandemic.
What are your long-term goals?
Our main mission in the Tanz Centre is to continue to do cutting-edge research in neurodegenerative diseases, with the goals of improving diagnosis and developing better treatments and eventually cures that will change the lives of individuals and their families. Our work includes understanding the causes of neurodegeneration and developing biomarkers to track the development of neurodegeneration. It's a huge challenge, and it won't be accomplished quickly. And it requires huge international effort.
We are extremely collaborative, both within the Tanz Centre and with partners in Toronto, Canada and globally. My aim is to continue to encourage and provide opportunities for collaboration as much as possible. I'm eager to get more involved in international efforts. There will be more opportunities once we can host meetings here at the Tanz Centre with researchers from abroad, as these meetings often start fruitful collaborations.
What motivates you in your work, both as a researcher and as the director of the Tanz Centre?
My research goal traces back to my PhD, when I investigated the NMDA (N-methyl-D-aspartate) receptor. We discovered that the NMDA receptor is fundamental in synaptic plasticity, which is the process for storing memories. My work has focused on what this receptor does normally and how its dysfunction contributes to major neurodegenerative diseases. I've spent my whole career working on this and related topics. An academic lab can't develop a drug on its own, but we can be involved in the drug development process by identifying new targets and lead compounds. I'm very excited about starting to develop new NMDA receptor-based therapeutics.
When I was growing up, my grandmother became ill with dementia. I believe there are very few diseases more urgent than neurodegenerative diseases, because these are some of the most terrible diseases for suffering for patients, families and caregivers. Her experience inspired me to understand neurodegenerative diseases and develop better diagnostics and treatments. Through the Tanz Centre, we are making important inroads that give reasons for hope for future generations.