Top Award for Neuroscientist
Dr. Gabor G Kovacs receives international award for his research in neurodegenerative diseases.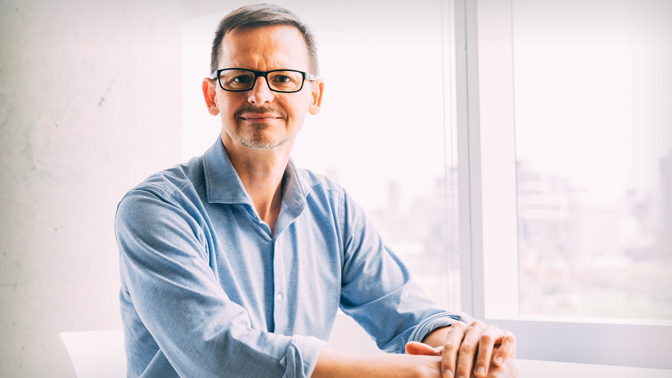 Announced on Jul 18, 2019
Dr. Gabor Kovacs received the 2019 Franz Burda Award from the International Association of Parkinsonism and Related Disorders. Dr. Kovacs, who recently joined UHN, is an internationally renowned neuropathologist and researcher in the field of neurodegenerative diseases.
The award recognizes his research focused on a protein known as alpha-synuclein. This protein accumulates in the brains of patients with a family of neurodegenerative diseases known as synucleinopathies, which include Parkinson disease. 
Dr. Kovacs joined UHN in the spring of 2019 and is co-leading UHN's new program devoted to the study of progressive supranuclear palsy—a rare and severely disabling neurodegenerative disease. He is a Senior Scientist at the Krembil Research Institute, a Professor in the Department of Laboratory Medicine and Pathobiology at the University of Toronto and a Principal Investigator at the Tanz Centre for Research in Neurodegenerative Diseases. His research program uses human brain tissues to investigate the mechanisms underpinning nerve cell death in certain neurodegenerative diseases. He has published more than 260 peer-reviewed articles and written 19 book chapters.
"Toronto has an incredibly high concentration of talented scientists and neurologists involved in neurodegeneration research. It also has a very collegial atmosphere that promotes collaboration and the sharing of research facilities. Combined, these factors are key for making new insights and discovering treatment strategies to help people living with these devastating diseases," says Dr. Kovacs.
Prior to joining UHN, Dr. Kovacs was an Associate Professor at the Medical University of Vienna in Austria and the leader of the Hungarian and Austrian Reference Center for Human Prion Diseases. His recruitment was made possible by the generous support of the Rossy Family Foundation and the Edmond J. Safra Foundation.